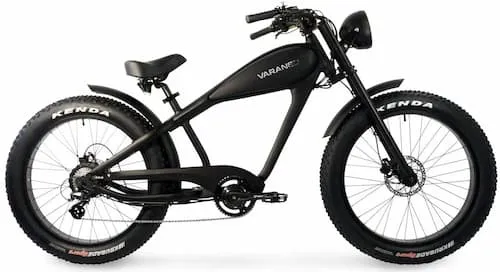 Electric Chopper Bicycle
An Electric Chopper Bicycle for adults is an e bike in the style of a chopper motorcycle. That means low saddle and higher steering wheel. Additionally, the frame is designed in such a way that it resembles a motorcycle. For example, the battery is cleverly hidden in the frame where otherwise the gas tank would be on an actual motorcycle. An electric chopper bike is a very cool design if you're looking for an e bike for leisurely and relaxed use that makes an impact wherever you go!
What is an Electric Chopper Bicycle?
An Electric Chopper Bicycle is a bicycle with characteristics based on the chopper motorcycle which was a design icon from the 1960's. They will typically have a long wheelbase with a high handlebar position and a low saddle height. This gives a very relaxed riding position, with the rider's legs positioned forwards along the bicycle instead of directly below the seat tube. They usually have a bold design, with wide tyres, shiny finishing kit and are typically lower to the ground than a standard bicycle. They have an extended fork as part of the design and electric chopper bikes borrow features from the chopper motorcycle including a bold headlight, powerful motor and pedal assist functionality. Electric Cruisers and Chopper bicycles are just as comfortable cruising through the park as they are on the way to pick up groceries or even heading to the local café to get some extra attention.
What are the benefits of an Electric Chopper Bicycle?
An Electric Chopper Bicycle is a great choice for the fashion-conscious rider who wants to stand out and be noticed. They have a seriously cool design which will certainly grab the attention of passers-by, plus are backed up by a powerful electric motor to allow for extended cruising along the coast or through the city. The relaxed geometry puts the rider in a reclined position which ensures a relaxing ride, plus the wide tyres absorb any bumps in the road. An e-chopper will typically have a wider, suspension saddle and wide bars to closely replicate the riding experience of a real chopper motorcycle so you get to enjoy all the same benefits.
Comfortable seating: With the design of the chopper bicycle which gives you a reclined seating position, combined with the extra wide saddle and fat tyres you get an extremely comfortable seating position which is unmatched by a normal trekking or city bike.
You'll steal the show wherever you'll go: When you ride a chopper bicycle you will find that all eyes are on you and you'll encounter envious looks from bystanders. This is because of the unique design which makes the bike look like a motorcycle, but because it is still a bike which makes it a lot more sporty and you can get anywhere much easier than a motorcycle. For example, you can easily ride through the park or drive through busy city streets.
Pedal assistance: An electric chopper bicycle will assist you as you pedal, giving equivalent power dependant on how hard you cycle. There are often several different power modes which can help the rider decide how much effort they wish to put into their ride, whether it be minimal or maximum power. They are capped at speeds of 15.5mph or 25kmh which can help you cruise along the coast with ease, no matter the hill or incline.
A green alternative to public transport or driving: An electric chopper bicycle can help you to change how you travel to work and can be ideal for shorter journeys. You no longer need to stand in a cramped and busy train carriage when you could jump on your electric bike and cruise to work, arriving sweat free and refreshed, with any luggage handily stored away.
What are the Negatives of an electric chopper bicycle?
A chopper bicycle boasts a bold design but this isn't to everyone's taste. If you wish for a more subtle ride then a chopper bicycle isn't the ideal option. It is important to consider as well that the geometry of the chopper bicycle lends itself to relaxed rides so is not the most efficient. If you want a super responsive and economical ride then the chopper possibly isn't the best option for you and an efficient electric hybrid might be more suitable.
How far can I cycle on an E-Chopper bike?
An Electric chopper bicycle will boast a powerful motor and large battery allowing for pedal assistance up to 15.5mph or faster dependant on where you will ride the bike. Typically, the range will be up to 70 miles which is amazing and ideal for all-day cycling. Battery range can depend on a wide range of elements including weather, terrain, number of hills on the route and speed cycled. The motor will be a minimum of 250w and powerful enough to propel you up steep hills with ease, taking the effort out of your ride.
Rayvolt Cruzer E Bike chopper bicycle
The Rayvolt Cruzer chopper bicycle is a uniquely designed electric bicycle inspired by the first era of motorcycles dating back to the early 1900s, combined with the 60s California beach style. With the curved frame, raised handlebars, and a low seating position you'll get the feeling of driving a real motorcycle. You can upgrade to a dual battery version for a range of 120km to make your next journey even further afield. Key Features:
Unique chopper design that impresses any bystander
Battery charges while braking to maximize the range and efficiency
Dual battery option to extend the range to 120km
Anti-theft functions such as locking the motor with a simple press of the button
Bluetooth connectivity to your smartphone to check functions such as speed, battery, etc.
Customize with your desired colour and accessories
Varaneo Cafe Racer chopper bicycle
This amazing café racer chopper bicycle features an unique style with a whole host of modern features as well. The Café Racer electric chopper bicycle is available in stealthy all black, aluminium, red and 2 different types of blue. You can also accessorise the bike with a rear rack and saddle bags to make your next adventure a breeze, whether it's a commute to work or a Sunday spin. Key Features:
Range up to 80 km so you can cruise through the entire city
Integrated colour display to give convenient access to controls and information
Shimano derailleur with 7 speeds to quickly adjust the gears to your surroundings
26 inch Kenda Juggernaut fat tyres makes this chopper bicycle unstoppable
BAFANG 250W motor gives pedal assistance of up to 25km/hr
Samsung lithium-ion battery with 626 Wh capacity.
Retro headlight for a vintage look.
The Ruffian Chopper
This high-end Chopper Bicycle from German manufacturer Ruff cycles will certainly impress anyone. The same chopper bicycle as Christiano Ronaldo is driving, because it's the best quality bike you can find. With a Bosch mid drive system you are certain the motor and battery are built to last.